Are you an educator interested in incorporating a school therapy dog into your educational setting? This page will help you learn more about the growing field of school therapy dogs and related resources. It is important to note that the therapy dog industry is unregulated. You will need to do your due diligence to ensure that the choices you make consider safety, responsible dog training and dog handling, and program oversight.
Be sure to also explore the Animal Assisted Intervention page for more information about including therapy dogs in goal-oriented student activities.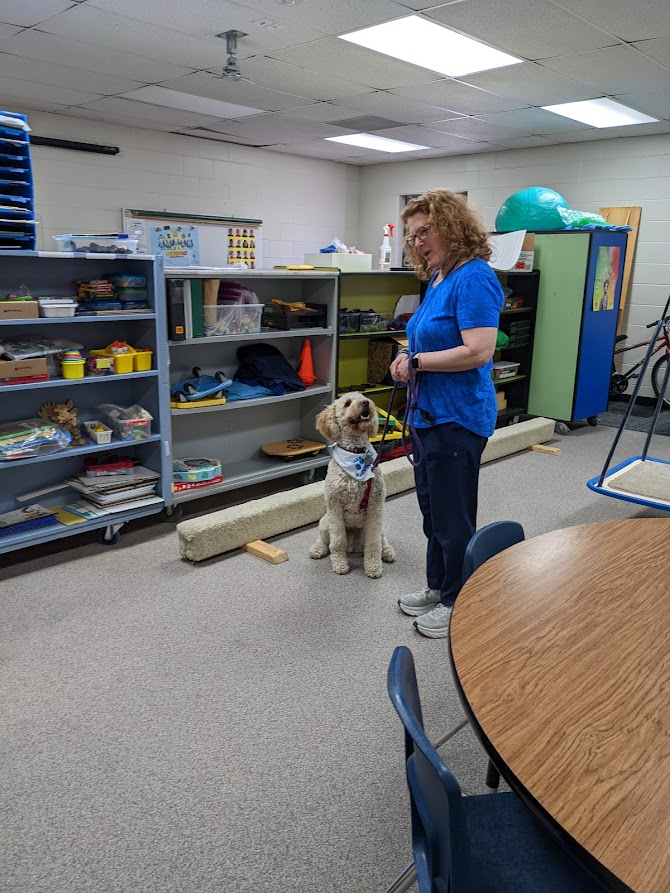 School Therapy Dog Models
There are 3 basic models when considering including therapy dogs in an education setting. CCH helps to prepare teams for the "Professional AAI Model" however you should be aware of the other options that may be readily available to you.
Visiting Support Model – a therapy dog team (dog and handler) comes to your school for basic interactions with students (goals may be to support animal awareness, improve student wellness, encourage positive school climate)
Visiting AAI Model – a therapy dog team (dog and handler) comes to your school on a prearranged schedule and works directly with an educator to implement specific goal oriented activities. (goals may include social-emotional, therapy, and academic oriented activities)
Professional AAI Model – The therapy dog team is made up of the handler who also delivers already established services in the school to students with their own trained therapy dog.

A growing trend is to include Professional School Therapy Dogs in special education, therapy, social work, counseling, and academic tutoring. The therapy dog accompanies the handler to their work site and spends extended periods of time in the school participating in interventions with students at the direction of the handler. This model is most successful when the educator undergoes specific training to learn dog handling methods, as well as learning to integrate Animal Assisted Intervention.
Frequently Asked Questions
School Therapy Dog Resource Links
Popular U.S. Therapy Dog Registries